Thinking Outside the Box About Affordable Housing
Experts agree that the housing shortage in Lexington—and across the country—is primarily due to a lack of affordable, attainable housing. Proponents of expanding the Lexington Urban Service Boundary (USB) often want to claim more of Lexington's productive farmland to build single-family detached housing, the sort of sprawling suburbs found in areas around Hamburg and off of the Leestown corridor. Unfortunately, these housing types do little to alleviate the housing crisis. In fact, constructing only single-family detached units increases the cost of infrastructure, the reliance on private automobiles, and the threat to our environment. 
Affordable Housing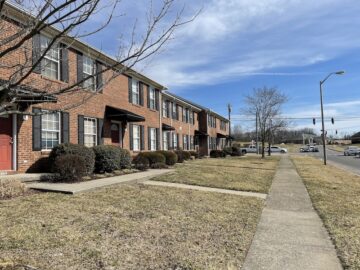 What Lexington really needs is more affordable, or attainable housing, which the US Dept. of Housing and Urban Development defines as "housing on which the occupant is paying no more than 30 percent of gross income for housing costs, including utilities." The average household income in Lexington is just over $57,000 according to the US Census Bureau. The most the average family in Lexington should pay on housing and utilities is around $1,400 per month, but the average value for homes in Lexington is more than $260,000, which means most residents, under current rates, are priced out of affordability by over $600 a month.   
The most reasonable arguments for more affordable, attainable housing in Lexington are the time-tested laws of supply and demand. As the supply decreases, the demand (and thus the price) increases. Conversely, increasing the supply will cause prices to decrease. The question then is how do we best increase the supply? Many developers would propose expanding the USB and building more low-density, single-family detached housing. These housing units serve very few residents per square foot and boast large environmental footprints. Furthermore, these homes don't address the problems of affordable housing, in fact, they're the opposite. These houses tout price tags above the average home value in Lexington, catering to the city's upper-middle-class residents, and are still out of reach for the majority of Lexington residents.
It is important to differentiate the efforts around building more attainable housing from those efforts for more subsidized Affordable housing for low-income residents. Both are necessary, but unique solutions are required to address each. In Lexington, Affordable housing subsidies, loans, and grants (through the Affordable Housing Trust Fund) are used to develop housing for those residents earning under 80% of the average household income. That's why we have advocated for increased funding to the Affordable Housing Trust Fund at LFUCG AND we advocated for zoning reforms to make building Affordable housing easier, such as reducing parking requirements and increasing Floor to Area ratio requirements. These reforms, approved and implemented over the past two years, have already allowed more units to be built in Lexington. 
Since its creation in 2014, the Affordable Housing Trust Fund (AHTF) at LFUCG
has provided funding to for-profit and non-profit developers for the
creation and preservation of 2,933 units of affordable housing. The City has leveraged $23.6 million in government funds into a total investment of $350 million in affordable housing in our community.
In 2020, developments included
120 units
for our aging population (55 and over) and through a partnership between Winterwood and NAMI,
26 units
of permanent supportive housing for medically vulnerable residents. There are
4 additional large developments planned to begin as well,
that will include
over 600 new units and 82 rehabbed units,
serving folks at or below 60% of the area median income.
Missing Middle Housing
What urban planning and development experts propose to address housing affordability is missing middle housing (MMH). These units include apartments, condos, townhomes, and multiplexes, and architects and urban planning professionals are working hard to imagine the efficient, connected communities of tomorrow.
Unlike single-family detached housing (SFDH) developments, MMH planning considers several factors. MMH units consist of multi-family structures like apartments, condos, multiplexes, and townhomes, but where MMH and low-density SFDH really differ involves community. MMH creates walkable and sustainable neighborhoods, where affordable housing also provides easy access to goods, services, and amenities—things like public parks, pools, and community centers.
A major benefit of MMH, especially through infill and redevelopment of existing properties around Lexington, is the economic benefits of mixed-income neighborhoods. Studies show that the new development of both affordable housing units and market-rate units (i.e., housing catering to upper-middle-income residents) preserves income diversity in a neighborhood. That means investment in underserved areas of Lexington won't displace current residents, and will even provide more affordable housing options in those neighborhoods for families that have lived there for decades.
In 2017, LFUCG partnered with several organizations like the Lexington-Bluegrass Association of Realtors, the Home Builders Association, and Fayette Alliance to conduct a housing demand study to gauge how much housing we needed and the types of housing that our changing community needed. The study found that to provide homes for Lexington's growing, diverse, and aging population, we must increase "missing middle" housing, like condos, townhouses, duplexes, fourplexes, and single-family detached homes on small lots. We believe that we must house our neighbors at all income levels by creating housing options that are diverse and affordable.
Building MMH on our major corridors and in neighborhoods creates more attainable housing for more Lexingtonians and must be accompanied with subsidized Affordable housing for low-income residents. We know that multiple solutions are needed to address these complex and diverse issues. 
Infill and Redevelopment
Opponents of infill and redevelopment, however, claim the opposite: that investing in low-income areas around Lexington's urban core will result in "gentrification," by which they actually mean "displacement." That's not only false, but it confuses the discourse with a misconceived, bad-faith notion of what gentrification really is. In truth, it's a catch-all term for investment in underdeveloped areas to provide more housing and economic opportunities, and it's been proven that with smart urban planning policies, these investments actually create safer and more diverse neighborhoods for everyone.
The alternative to infill and redevelopment is urban sprawl, and perhaps the worst implication of a sprawling city is the increased reliance on private automobiles for transportation. Expanding the USB means expanding the infrastructure; paving new roads and digging sewer lines further and further into our once protected farmlands. Residents would endure longer commutes, encounter denser traffic, and emit more carbon into the atmosphere. But MMH avoids those undesirable side-effects of sprawl because it focuses on the walkability of neighborhoods and access to public transportation. Building affordable housing close to job centers, schools, and shopping will decrease our transportation costs and allow for more thoughtful and impactful infrastructure improvements.
We funded the Grow Smart Study, which indicated that there are more than 17,000 acres of land within the urban service boundary available for infill and redevelopment. Some of that space is residual from the last expansion of the USB, in 1996. Of the 4,200 acres gained then, only half has been developed, and none of those units developed were affordable housing. The Grow Smart study also highlighted the potential for redevelopment around Lexington's corridors, major thoroughfares like Versailles, Nicholasville, and Richmond roads. Redeveloping space along these corridors, especially the abandoned big-box retail centers, would not only provide more affordable housing within the USB, but it would also grant more residents access to Lexington's public transportation network, reducing the need (and the cost) of private automobiles for families, which on average accounts for more than 24% of household income.
Accessory Dwelling Units
Another housing solution frequently discussed involves Accessory Dwelling Units (ADUs). ADUs are small structures, sometimes called tiny houses, located on the same lot as a detached single-family home. ADUs allow homeowners to modify their existing space to accommodate more residents, often parents and elderly relatives. Similarly, until recently Lexington's zoning laws prohibited "granny flats" (sometimes called "mother-in-law suites"), units within a single-family detached home designed for private occupancy. Senior citizens are the fastest-growing demographic in the US, and modifying single-family homes through ADUs or "granny flats" provides an appealing alternative to costly and inadequate elderly living facilities. Solutions like these allow residents in low-density housing to implement their own solutions in aid of Lexington's housing shortage. 
Fayette Alliance isn't just focused on growth, we're focused on smart, equitable growth. Nuanced problems aren't solved with simplistic, archaic solutions. They're solved through innovation and community engagement. That's why we support local efforts like On the Table, where residents can come together and talk about issues. It's also why we support civic initiatives like the Task Force on Neighborhoods in Transition, which is focused on protecting Lexington's marginalized and underserved citizens and the cultural identity of their neighborhoods. By working together to find creative solutions to our problems, Lexington can continue to be a model for the American city of the future.