Grow Smart Academy
Grow Smart Academy (formerly Citizens' Planning Academy) is a free, four-week program designed to educate Fayette County residents on land-use planning and its relationship to our community's economic development, environment, and quality-of-life.
Register today and join us as we examine these local issues with experts.
2021 Grow Smart Academy
Zoom Meetings
6-7:30PM
Tuesday, July 20, 2021: Intro to Smart Growth
Tuesday, July 27, 2021: Growing Our City
Tuesday, August 3, 2021: Sustainability and Transportation
Tuesday, August 10, 2021: Promoting Our Farms
 Alumni are encouraged to register.
Participants who complete all four sessions of GSA will be entered to win one of 50 tickets to Railbird Music Festival, August 28 and 29.
We will offer an optional in-person horse farm tour of Mill Ridge Farm on Friday, August 6 at either 12-1:30PM or 2-3:30PM. This tour is open to all, even if you are not participating in Grow Smart Academy! Due to space limitations, only 40 tickets will be available at a discounted rate of $10 a piece. Contact us at info@fayettealliance.com with questions.
---
2021 Session Details:
Thank you to our Grow Smart Academy 2021 sponsor, American Farmland Trust!

Session One, Intro to Smart Growth:
We know the question is not if we grow, it's how. What is Smart Growth? How do we ensure Lexington grows in a smart, sustainable, and equitable way? 
Join our kick off to Grow Smart Academy where we will provide basic concepts and examples of smart growth that we will dive into in our following three sessions. We will discuss housing affordability, increasing access to and safety for all modes of transportation, how the pandemic has impacted growth, and more.
Brittany M. Roethemeier, Executive Director, Fayette Alliance


Brittany M. Roethemeier, J.D., joined Fayette Alliance as Executive Director in March 2019 after practicing real estate law at McBrayer PLLC since 2011, where she was named a "Super Lawyer-Rising Star in Real Estate" in 2017, 2018 and 2019. A passion for her community and a desire to ensure that Lexington continues to be an extraordinary place to live, work and play for all its community members brought her to Fayette Alliance, where she is committed to its vital mission to sustainably and equitably grow our city and promote our farms.
She has served as a volunteer with numerous non-profit organizations, including on the Board of Directors of Step by Step, Transylvania University Young Alumni Council, Friends of the Bluegrass Land Conservancy, Leadership Lexington Alumni Association and Youth Program Steering Committees, Court Appointed Special Advocates (CASA) and is a graduate of the Leadership Lexington Class of 2014-15. Originally from Union, Kentucky, Brittany is a graduate of Transylvania University and the University of Kentucky College of Law, and lives in Lexington with her husband Dean and rescue dog Henry.
Ashleigh McGuire, Director of Education and Governmental Affairs, Fayette Alliance
Ashleigh McGuire is a Clark County native who has worked in non-profit public affairs for six years, including work in community engagement, advocacy, education, government affairs, and public policy. Ashleigh serves as Vice Chair of the Board of Directors for Ampersand Sexual Violence Resource Center and the Leadership Lexington Youth Program Steering Committee. She graduated from the University of Kentucky in 2015 where she found her passion for advocacy on sustainability issues and building a thriving Lexington community for all. Prior to joining Fayette Alliance, Ashleigh served as the Director of Public Affairs for Planned Parenthood in Florida and upstate New York for three years and worked on various issue-based and electoral campaigns.
---
Session Two, Growing Our City:
Lexington's planning and land use policies, set out in our Comprehensive Plan, outline the vision for how we live, work, and play. This session connects the importance of land use policy to our everyday quality of life. Join us as we hear from LFUCG's Division of Planning staff about the 2018 Comprehensive Plan, Imagine Lexington, and how it is working to address the housing, transportation, and infrastructure challenges facing our city. We will discuss how the plan has been implemented so far, and how you can provide input as LFUCG continues to put the 2018 Plan into action.
Sam Castro, AICP, LEED ND, Senior Planner, Long Range Planning, LFUCG
Samantha is a Certified Planner and a LEED Accredited Professional for Neighborhood Design and has a Masters of Landscape Architecture and Regional Planning from the University of Pennsylvania. Her comprehensive background includes large-scale master planning and transportation planning in the private sector, as well as experience in all phases of urban design, city planning, landscape architecture, and public engagement. Samantha is currently a Senior Long Range Planner with the City of Lexington's Division of Planning, as well as guest professor/lecturer at the University of Kentucky's College of Design, and Department of Landscape Architecture. She is a member of the Kentucky Chapters of the U.S. Green Building Council and the American Planning Association, and currently serves as the Lexington Programming Chair for the Kentucky Chapter of the Urban Land Institute.
Chris Taylor, Administrative Officer, Long Range Planning, LFUCG
Chris Taylor is an Administrative Officer with City of Lexington's Long-Range Planning section. He has a degree in Economics from the University of Kentucky. Chris has been with Lexington's Planning Division for 14 years. In his most recent role, he was instrumental in the completion of the City's newest comprehensive plan, Imagine Lexington, which provides for creative infill & redevelopment within the nation's first urban service boundary. Currently he's working to revise Lexington's zoning ordinance to provide considerably more housing opportunity.
---
Session Three: Sustainability and Transportation
Infrastructure is the foundation of our city and a key element in considering how our city can and should grow. Our Urban Services Boundary was put into place in 1958 as a way to focus resources for infrastructure like sewer and roads in and around our city. Limiting urban sprawl is critical to sustainable and equitable growth and a high quality of life for all Lexingtonians, especially for our underserved communities. Attendees will learn about the negative impacts of urban sprawl and how other cities are addressing sustainability and transportation issues. We will also hear from LFUCG's Division of Planning on the transformative Imagine Nicholasville Rd. plan and how it could positively impact all modes of transportation, encourage sustainable and walkable development, and support more diverse housing options on our busiest corridor.
Meg Fencil, Director of Engagement and Impact, Sustain Charlotte
Meg educates, engages, and unites the community through our programs and is actively involved in fostering partnerships within the community and assessing program outcomes. Prior to her work with Sustain Charlotte, Meg designed and implemented original research programs as a U.S. Fulbright grant recipient in Croatia and a National Science Foundation East Asia and Pacific Summer Institute Fellow in Japan. While completing her dissertation research in coastal south Texas, she advocated for responsible coastal management, protection of freshwater flows to estuaries, and sustainable fisheries. Meg holds a B.S. in Ecology and Evolutionary Biology from the University of Connecticut and a Ph.D. in Marine Sciences from The University of Texas at Austin. She taught project-based mathematics to 9th-grade students at West Charlotte High School through Project L.I.F.T. and Ten80 Foundation. An experienced educator at both the university and K-12 level, Meg enjoys developing educational materials and reaching diverse groups of stakeholders in relevant and innovative ways.
Kenzie Gleason, Administrative Officer, Lexington Area Metropolitan Planning Organization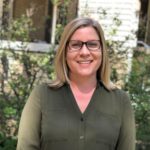 Kenzie Gleason is an Administrative Officer with the Lexington Area Metropolitan Planning Organization, the transportation planning agency for Fayette and Jessamine County.  She coordinates with a team of planners and local officials to guide how federal transportation dollars are invested in our region.  Kenzie began her work with the city developing bicycle, pedestrian and trail plans – a passion that still informs her work today, helping Lexington achieve its goals for a more human-scaled, walkable and transit-friendly transportation system.  She is currently overseeing the Imagine Nicholasville Road study, a plan to develop Lexington's first bus-rapid transit line.
---
Session Four, Promoting Our Farms
Promoting our beautiful and productive Bluegrass farmland is a key part of Fayette Alliance's mission. Our unique farms contribute to our identity, economic development, and quality of life. Fayette Alliance advocates for sustainable, responsible, and innovative growth because we know that balancing our irreplaceable Bluegrass farmland and growing an equitable city for all is what makes Lexington-Fayette County extraordinary.
This session will expose our attendees to the significant ways our farmland impacts our community and why smart growth and farmland preservation are important partners in Lexington's thriving community. Our rural land acts as the factory floor of our signature agricultural industries, providing a wide range of diverse employment opportunities (a $2B annual county economic impact), and supporting a growing local food movement which connects more people to the land every day.
Billy Van Pelt, Director of External Relations and Senior Advisor, American Farmland Trust
Billy is the Director of External Relations and Senior Advisor to the President and CEO at American Farmland Trust (AFT). He works with AFT's national and regional programs, major donors, and partner organizations throughout the Southeast and Texas. Before joining AFT, he ran his own government relations and consulting firm. During this time, he served as the founding CEO of Woodford Forward, a land use advocacy organization in Central Kentucky.  As a landscape architect, he worked in both the private and public sectors, including over a decade at the Purchase of Development Rights farmland protection program in Lexington, Kentucky.  Billy grew up on his grandparents' cattle and tobacco farm in Woodford County, Kentucky. He earned a Bachelor of Arts in business administration from Transylvania University, a Bachelor of Science in landscape architecture from the University of Kentucky College of Agriculture and a Master of Business Administration from Midway University. Billy is the Chair of the Transylvania University Board of Regents and serves on the Midway University Board of Trustees.  Billy also serves on the Lexington-Frankfort Scenic Corridor, Inc. Board of Directors.  He is licensed to practice landscape architecture in the Commonwealth of Kentucky and is a member of the American Society of Landscape Architects.
Kenya Abraham, Co-Founder, Slak Market Farm
Kenya Abraham, is one of the co-founders of Slak Market Farm. She is 1st a wife and mother of 6. Slak Market Farm is located inside the Old Richmond Road corridor of Lexington, Kentucky where they specialize in producing their signature raw milk and dairy products and halal meat production. She and her family have a strong dedication to utilize their farm as a place for serving the well-being of not only of their family but for the well-being of the raw milk community that they have built through relationship farming. Kenya operates Stack A Story Bookshop a 501c-3 nonprofit organization that brings kids into agriculture through Writing Workshops, Family Farm Stays, and Barnyard Expos. Kenya also works as a farmer liaison building structure with other farmers and working with them to push beyond the issues and limitations of systematic racism and other bottlenecks within the industry that affect small farmers. In 2020 Kenya was awarded the Small Farmer of the Year Award from Kentucky State University and the 2020 Emerging Leader Award from Community Farm Alliance.
Raymond Daniels, Co-Founder of the Ed Brown Society
Raymond Daniels is President and CEO of Equity Solutions Group a strategic sourcing and consultant company. Prior to founding Equity Solutions Group Raymond Daniels worked 27 years serving many corporate level roles for Waffle House, Inc., including Disaster Relief Manager for Operations, Director of Diversity and Minority Affairs, Senior Vice President of Operations, and owner/operator of a 13-unit franchise Lexidan Foods for 13 years. He serves on multiple boards including the Kentucky Chamber of Commerce, Commerce Lexington (Chairman), Community Ventures Corporation, Urban League of Lexington, Kentucky, Kentucky State Tourism Board and University of Kentucky board of trustees. Recently co- founded Ed Brown Society a non profit focused on increasing minority exposure and employment in the Equine industry.