Capacity & The Need for an Innovative Growth Strategy
Lexington is a growing city with a changing demographic.
Best estimates say that an additional 60,000 people will call Lexington home by 2030.
One of the central questions facing our community is not if we grow, but how we grow—and can we do it in a way that positions our built, natural, and social environments for success in today's rapidly changing world? National and local market studies shed light on this complex issue. Surprisingly, our demographics are changing along with our housing preferences—determining how our community will look and function in the future.
Today's typical homebuyers want smaller, denser, and more interconnected living environments.
Recently, The New York Times reported that "75 percent of home buyers over the next 15 years will have childless households…There is a historic reversal of home-buying demand away from suburban and rural areas to cities and inner ring suburbs that are more walkable than driveable…[It] is projected [there will be] a nationwide surplus of 22 million suburban homes…by 2025."
Nationally, the single-family detached home in the 'burbs has become less and less the housing unit of choice, when other options are available and affordable.
And locally, Lexington-Fayette County is experiencing a similar transformation.
In 2009, LFUCG completed—with the help of several national and local real estate planning firms—a Housing Market Study that identified our demographic trends, available land for development, and preferred housing types and needs over the next twenty years.
The findings of this study were as follows: 1. There is an immediate need of quality housing for those with moderate incomes. 2. Lexington's longer-term growth model needs to include denser home development such as condominiums, town homes, and small-lot single family units.  3. There is a need for a regulatory environment that facilitates well-designed, higher density mixed-use development.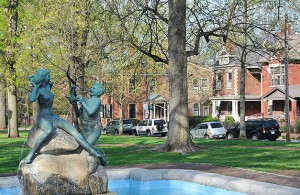 In order to pursue an innovative growth model LFUCG needs to implement some key changes.

The 2009 Housing Market Study also identified several needed LFUCG initiatives. The study showed that there needs to be more support for local affordable housing programs and changes need to be made to local land-use and zoning regulations. Some of these changes include site design, streetscape standards, and exploration of mixed-use districts.

These are necessary changes as the potential redevelopment areas may accommodate at least 19,000 new residential units under current land-use plans, and yet we will likely need 30,000 new residential units by 2030.

Click Here to read a more detailed analysis of the 2009 Housing Market Study.

In addition, Lexington's carbon footprint is the largest among the nation's 200 major metropolitan areas in large part due to our current notions of capacity.

The Brookings Institution, recently named Lexington as having the largest carbon footprint among the nation's 200 major metropolitan areas. This means that the average Lexingtonian emits 2.5 times more carbon dioxide from transportation and housing than the average resident in Honolulu-the city with the smallest carbon footprint in America.

The study analyzed several scientific factors, and listed Lexington's suburban sprawl-like development patterns, weak mass transportation systems, and the use of cheap coal for energy as the culprits of our excessive greenhouse gas emission.  Essentially, the more spread-out we are, the more land and resources each one of us uses to live, travel, and function.

With a new, sustainable growth approach we can decrease the size of our carbon footprint and develop in an environmentally sustainable manner.
In its analysis, the Brookings Institution determined that metropolitan areas with compact, high-density development and rail transit have smaller per capita carbon footprints than low density, automobile oriented cities. As such, New York and Los Angeles consume less energy and emit fewer greenhouse gases, per capita, than Oklahoma City and Lexington.

So what is the answer? The Brookings Institution recommends that Lexington promote more transportation choices and compact development options in its land use model. In addition, it suggests that local government enact housing policies and location efficient development decisions to reduce our carbon footprint and get cleaner air.

Our carbon footprint crisis presents a historic opportunity for Lexington and the Bluegrass Region. Clearly, it affirms our commitment to innovative planning, urban revitalization, rural preservation and regional sustainability. If accomplished, this vision will achieve Lexington's full promise. If not, our environment, quality of life, and future hang in the balance.

Click Here to download a copy of the Brookings Institution report. Click Here to download a copy of the "Brookings Institution Editorial" by Knox van Nagell, Executive Director of The Fayette Alliance.

Can we meaningfully respond to what our market is telling us, and implement targeted affordable housing and infill policies that make it easier for developers to do the right thing, without compromising our cityscape and iconic Bluegrass brand?

Lexingtonians say "yes". In the recently completed Destination 2040 Project, the community articulated its "Physical Growth" vision by stating:
"We will protect and promote the signature rural landscape…continue the momentum to bring about a truly vibrant downtown, and ensure that all urban and suburban neighborhoods flourish. Acknowledging that the future will bring growth in population…[W]e will use proactive, cooperative regional planning to address change…while appropriately balancing the community's needs."

This is a tall order but we must follow suit. Our future depends on it.

By redefining our notion of capacity Lexington can become a visionary city with a sustainable land use system.
Our current notion of capacity is not environmentally responsible or feasible.
For example, from 2000 to 2005, Lexington's population grew a little over 3%, and yet housing increased nearly 10%. The 2010 census found that there are 12,117 vacant housing units in Lexington. Yet, despite these vacancies there is still a shortage of affordable housing. According to the 2009 Housing Market Study, Lexingtonians earning a median income cannot afford up to 71% of houses on the market today. There is clearly a disparity here, and we need to address this challenge imaginatively so that we can make our city both dynamic and equitable for all Lexingtonians. Ultimately, we need to re-define our notion of capacity, and establish a visionary land use system by which we can responsibly grow up, not out.
Click Here to learn more about affordable housing in Lexington.
For More Information:
"LFUCG Housing Market Study Op-Ed" by Knox van Nagell, published in The  Lexington Herald Leader, October 25, 2009
"In the Region—Housing Inventories on the Rise", The New York Times, December 2008
The LFUCG Housing Market Study, 2009
The LFUCG "Aging in Place" Initiative, 2008
The LFUCG Division of Planning, 2006
U.S. Census Bureau
"Kentucky 7th in rising CO2 Emissions",The Lexington Herald-Leader, June 21, 2006.
"Shrinking the Carbon Footprint of Metropolitan American", Brookings Institution, 2008
"Projections of Total Population: State, ADDs, and Counties" KY State Data Center
"Investment Niche or Necessity? Climate Change, Land Use, and Energy 2009", Urban Land Institute, 2009