Thistle Station TIF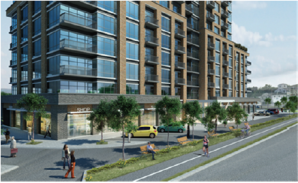 Fayette Alliance believes that Lexington-Fayette County can become the model for sustainable growth, by connecting and balancing its vibrant city with its unique and productive Bluegrass farmland.
In furtherance of our mission to grow our city and promote our farms, we support Tax Increment Financing for the Thistle Station development, located on a 3.9-acre parcel at 303-310, 322, and 330 Newtown Pike in Lexington, Kentucky.
The property is zoned Neighborhood-Business, and advances the Goals and Objectives of the 2013 Comprehensive Plan, and the policies of the 2006 Downtown Master Plan.
Constituting a $34 million dollar investment on a blighted and abandoned piece of industrial property, Thistle Station will significantly contribute to the revitalization of downtown's West-End.
The project encompasses a sixteen-story building that will house 202 apartments, with an average of 1,000 leasable square feet; a full service gym and swimming pool; high speed internet and fiber optic cable communication services; 10,700 square feet of street-level restaurant and retail space; and another 8,000 square foot restaurant and retail building, that will average 4,000 square feet per floor.
Thistle Station is both timely and strategic, as it is located in close proximity to the Legacy Trail, mass transit routes, and to interstates 1-75 / I-64. Its accessibility will work with the ongoing expansion of KCTCS and Transylvania University to transform a historically neglected part of the city through mixed-use, multi-modal, and well-designed sustainable development.
With substantial private financial support in place, the proposed Thistle Station TIF District is a sound investment for Lexington. The public-private partnership between Thistle Station and our local, and state governments will produce a game-changing development in the heart of our city that will strengthen Lexington's ongoing renaissance.
This is important, as a strong downtown improves our appeal to knowledge-based professionals that drive economic development; it promotes investment in dilapidated and underutilized urban properties needed to accommodate future growth; and it complements the quality of life activities of our signature agricultural industries and world-renowned Bluegrass brand.
To learn more about this important initiative check out the documents below.