Fayette Alliance and the Grow Smart Study
At Fayette Alliance, one of our core undertakings, beyond advocacy and education, is to fund research that provides objective data to support our work.
By partnering with experts who research the complicated issues facing our community's development, we can focus on "how" we grow, rather than "if" we grow. What emerges from these campaigns is objective research and foundational conclusions that enable us to advocate for community growth strategies with intention.
These initiatives help expose the facts behind our land use and economic development, which keeps our decision-makers and the community better informed to make responsible land-use policy decisions that impact us all.
Studies and research sponsored by Fayette Alliance help drive data-driven policies and solutions that ensure Lexington is a thriving and welcoming community for our future generations.
Lexington Grow Smart Study 
The research organized, conducted, and promoted by Fayette Alliance is grounded in actionable data that influences thought leadership in our community. One of our more recent reports is the 2021 Lexington Grow Smart Study, executed by Lord Aeck Sargent, a nationally-recognized urban planning firm with an office right here in Lexington. The strategies leveraged for the study are to:
Create a land use and development map
Define and implement a quality-of-life infrastructure plan
Provide examples of redevelopment opportunities in catalytic areas
Create a proactive plan for road, transit, and pedestrian/bicycle networks
Several themes were identified in terms of the studies' background that impacted the process. One was the changed work environment brought on by the COVID-19 pandemic; geography is no longer a restriction to the labor force, and remote work may lower the need for expansive office space. The decline in brick-and-mortar retail was a consideration as well; the expansion of online shopping has become entrenched in our community, resulting in an increased need for local warehousing and distribution facilities. The future of transportation and our communities' housing has changed as well; diversified options in both sectors emerged to meet the ever-changing needs of our community members and changing demographics. 
Land Use and Development Recommendations
Some of the land use and development recommendations from the Lexington Grow Smart study include:
Tracking Growth and Development Trends Annually

Creating an Overall Policy Area Map

Planning for Redevelopment Along Commercial Corridors

Implementing Steps to Address Equity and Inclusion Related to Growth and Development
Defining Smart Growth
Growth can be sustainable, growth can be localized, and growth can be smart. What does Grow Smart mean, and how does that look in your neighborhood? Updating city land-use policies can be challenging, and sustainable and equitable growth in Lexington does make an impact on our everyday activities. Growth and development affect how we live, work, and play. As advocates for smart growth in our community, we encourage development that includes:
A mixture of building types and uses

Diverse housing and transportation options

Development within existing neighborhoods

Meaningful community engagement
Through these efforts, the fruits of our labor become growth that supports economies and provides further opportunities for all in our community.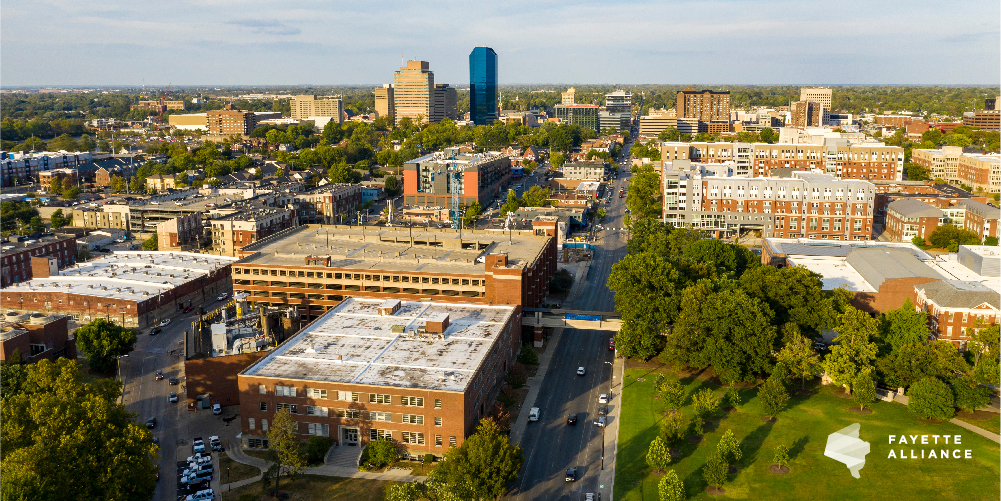 Missing Middle Housing
Implementing Missing Middle Housing – like townhomes, duplexes, and fourplexes in walkable neighborhoods–was a key component of the study. By building more diverse housing types at lower price points, we can dissolve the mismatch between current housing inventory and the reality of changing demographics that often feature a desire for more walkability in neighborhoods and less expensive units for middle-income residents, or workforce housing.
By building small footprint duplexes, courtyard buildings, and other "middle size" housing options, diverse housing and transportation options that support locally-serving retail operations emerge. These smaller, well-designed units convey the perception of lower density while offering more walkability and community creation. 
The study identifies specific "catalytic areas" that showcase the possibility created by more efficiently using, or re-developing, our land along major corridors. 
On Richmond Road, the plan for economic opportunity along this specific commercial corridor identified 156 acres of vacant land or parking spaces ripe for development, 108 acres of redevelopment space, and 169 acres of infill.
Opportunities here include the potential for the development of up to 2,500 residential units, 350,000 square feet of retail space, 900,000 square feet of office or commercial space, and 500 hospitality rooms, all within this underutilized commercial corridor.
Similar catalytic areas identified in the study included Coldstream and New Circle Road. In total, somewhere in the range of over 40,000 potential residential units were identified by conducting the Lexington Grow Smart study. These catalytic areas show what's possible–with the right policies, creativity, and motivation. 
Outcomes and Conclusion
The conclusion of the study identified several implementation steps to address equity and inclusion related to growth and development. These include:
Annually track growth trends within identified "neighborhoods in transition" specifically to increase data transparency;

Ensure community-based neighborhood planning;

Ensure broader participation and communication with city residents in the planning and development process;

Prioritize community-driven infrastructure investments that discourage displacement in traditionally excluded neighborhoods;

Preserve existing affordable housing and expand development options through zoning policy;

Educate community members on and prioritize policy implementation that promotes increased housing density, supply, and affordability;

Consider creating shared warehousing and distribution centers for small, local businesses;

Create expansion/assistance programs and ped/bike/open space improvement projects focused on neighborhood retail corridors; and

Increase the number of early childhood centers, community centers, and senior centers.
The Grow Smart Study is one of many examples of Fayette Alliance's commitment to funding actionable data-oriented research in our community. This type of research directly supports Fayette Alliance's advocacy and education work in Lexington-Fayette County, and our dedication to sustainable and equitable growth. Explore our many other community studies and programs here.