Soccer Complex Updates
Soccer Complex Updates
While Lexington Sporting Club has withdrawn their intent to develop a 12-field soccer complex in the Agricultural-Rural zone, they are moving forward with a Zoning Ordinance Text Amendment (ZOTA) to permit soccer stadiums/entertainment complexes in the Economic Development zone. This ZOTA has been postponed to September 22, 1:30pm at City Hall. You can still take action – see below for ways to reach out to the Planning Commission and City Councilmembers on these important issues.
A message to our supporters
8/4/22
To our supporters who showed up, signed on, joined the fight and made our voices heard –
We cannot thank you enough for your commitment to Fayette Alliance's cause. Whether you've worked with and supported us in the past or were tuning in for the first time due to concerns over the proposed soccer developments, we feel lucky to be advocating on your behalf.
In recent weeks, we rallied together to protect our most finite resource – the productive farmland that makes Lexington-Fayette County so unique. The community has spoken, and we appreciate Lexington Sporting Club's decision to back down from its efforts to develop a soccer practice facility in the A-R Zone. We hope Anderson Communities takes note and follows suit.
The reality is that despite achieving a victory last week, which we couldn't have done without your support, we have a lot more work ahead of us. The proposals for the soccer stadium and practice complex will continue to move through the local approval process and are set to be considered during the Planning Commission meeting on Thursday, September 22nd. Additionally, the Economic Development Zone site on which the proposed stadium would be built, off of Newtown Pike, is bordered by the A-R Zone and numerous agricultural and equine operations on three sides. The proposal therefore still constitutes a significant risk to the integrity of our zoning ordinance, our iconic Bluegrass farmland and the ability of future generations to benefit from it.
We've been hearing from a lot of you in the days since the Planning Commission meeting was postponed and Lexington Sporting Club made its announcement about seeking an alternative site for its practice complex. To this end, we have prepared the FAQ below to provide some answers and give you an idea of what you can expect next.
All the best,
Brittany and the entire Fayette Alliance team
FAQs
Q: Does this mean there will no longer be any soccer facilities in the A-R Zone?
A: Unfortunately, the Board of Adjustment already issued a conditional use permit to Anderson Communities (the property owner) for the development of 12 soccer fields and a 750-space parking lot in the A-R Zone, so some damage to the A-R zone and nearly 70 years of land-use precedent has already been done. The conditional use permit will expire in 12 months if no development is pursued, but it will remain in effect until then unless additional action is taken by Anderson Communities to cancel the permit.
Q: When will the Planning Commission consider the two zoning ordinance text amendments (ZOTAs) related to the soccer development? Are they both still in play?
A: The ZOTA to permit lights and concessions in the A-R Zone in association with the 12 soccer fields has been "indefinitely postponed". If no action on the ZOTA is taken within 12 months, it will be officially withdrawn.
The ZOTA to permit a 10,000-seat outdoor stadium for soccer, concerts, festivals and events and thousands of surface parking spaces in the nearby Economic Development Zone will be heard by the Planning Commission on Thursday, September 22nd, at 1:30pm in City Hall. This ZOTA would then be heard by the Urban County Council within 90 days of the Planning Commission making their recommendation.
Q: What exactly is the Economic Development Zone?
A: The intent of the Economic Development Zone is specifically for job creation. From the time this zone was originally established, specific uses that might be permitted in other areas for job growth, such as Industrial Zones, were removed from this zone to avoid negatively impacting nearby agricultural and residential land-uses. To this end, permitted uses of the land in the Economic Development Zone specifically exclude outdoor, unenclosed facilities with loudspeakers, as well as parties, festivals and concerts, but the Lexington Sporting Club has requested these uses for the stadium.
Any changes to or additional permitted uses in the Economic Development Zone in recent years have involved extensive stakeholder engagement efforts to solicit community input. Recent proposals that were approved include modern medical campuses and supportive uses, such as residential and limited commercial development that are much smaller in scale and intensity than the stadium being proposed.
Q: What is the status of Fayette Alliance's appeal and Open Records request? What comes next?
A: Because the conditional use permit approved by the Board of Adjustment in the A-R zone still stands, the appeal will continue to move forward in Circuit Court.
Documents have been received from the Open Records request and will continue to be reviewed. We also intend to gather additional information as needed as we seek to understand the circumstances that contributed to the questionable decision made by the Board of Adjustment.
Q: Where else could these soccer facilities go?
A: There are more than 17,000 acres of vacant, undeveloped and underutilized land available inside Fayette County's Urban Service Boundary. While we acknowledge that the land best suited for a soccer complex may be unique, discussions at the community, government, and stakeholder-level are critical to ensuring any future soccer facilities are a win for all of Lexington-Fayette County.
TAKE ACTION:
Mark your calendar for Thursday, September 22nd, 1:30pm at City Hall. The Planning Commission will hear the ZOTA proposal to permit soccer stadiums/entertainment complexes in the Economic Development zone, which borders the Agricultural-Rural Zone at the Newtown Pike site.
Email the Planning Commission and Councilmembers. We will be providing a suggested template soon: stay tuned!
See the maps below of the Economic Development zone in yellow, with the exact location of the stadium within that zone to be determined. The purple area is where the 12-field soccer complex was proposed, and that has been withdrawn by Lexington Sporting Club. You can see the numerous surrounding agricultural operations as well.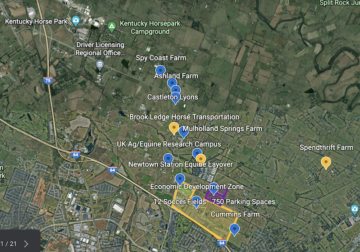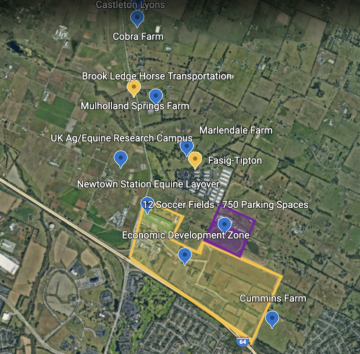 —
See below for all info prior to July 29, 2022:
Our statement from July 27, 2022 on Lexington Sporting Club's withdrawal of the 12-field soccer complex and parking lot:
We are pleased that our community's strong desire to protect the Agricultural-Rural zone has been recognized by the withdrawal of the Lexington Sporting Club's backing for the 12 soccer field and 750 parking space proposal at the Newtown Pike site. Fayette Alliance remains committed to advocating for equitable, sustainable and responsible growth in Lexington-Fayette County. We continue to support bringing professional and youth soccer opportunities to Lexington so long as it does not come at the expense of our community's signature Bluegrass farmland and the industries it supports.
Below are links related to our opposition of the 12-field soccer complex (now withdrawn) and our opposition to the soccer stadium in the Economic Development zone: