Grow Smart Academy 2.0
Grow Smart Academy 2.0 Education
and Networking Events
We created Grow Smart Academy 2.0 (formerly known as CPA 2.0) to highlight and explore local issues and resources related to land-use planning and our community's economic development, environment, and quality of life, outside of our annual, 4-week Grow Smart Academy (formerly Citizens' Planning Academy course. Open to anyone and everyone, we invite you to join us to hear from local experts on local topics related to how we live, work, and play in Lexington-Fayette County.
Upcoming Grow Smart Academy 2.0 Events
TBA
---
PAST EVENTS
Zoning for Equity: Updating Parking and Open Space Requirements
Tuesday, March 30th
ZOOM Call
Do you want to live closer to quality greenspace? Do you notice large empty parking lots across town that could potentially be used for people rather than cars?
Join us for a presentation and panel discussion with LFUCG Planning staff to learn about two upcoming zoning changes related to parking requirements and open space/greenspace. 
Updating our outdated zoning policies helps our city work toward equity and a better quality of life for all. We will discuss how these two zoning ordinance text amendments (ZOTAs) will allow for more equitable, quality developments that help us house all of our neighbors and work toward centering the needs of our community.
Speakers:
Valerie Friedmann, LFUCG Planning– Valerie Friedmann is a Long Range Senior Planner and the Greenspace Planner for the City of Lexington Kentucky's Division of Planning. Valerie coordinates with developers and various government divisions to further the city's open space plans during the development process. Her work helps ensure that all communities are served by thoughtful urban design and that everyone has equitable access to vibrant, community-focused open spaces. Prior to working for the City of Lexington, Valerie was an Assistant Professor in the Auburn University Landscape Architecture Program. At Auburn her research focused on the ecological and aesthetic benefits of novel plant communities. Valerie holds a Master's Degree in Landscape Architecture from the University of Tennessee.
Chris Taylor, LFUCG Planning– Chris Taylor is an Administrative Officer with City of Lexington's Long-Range Planning section. He has a degree in Economics from the University of Kentucky. Chris has been with Lexington's Planning Division for 14 years. In his most recent role, he was instrumental in the completion of the City's newest comprehensive plan, Imagine Lexington, which provides for creative infill & redevelopment within the nation's first urban service boundary. Currently he's working to revise Lexington's zoning ordinance to provide considerably more housing opportunity.
---
CPA 2.0 Promoting Our Farms: The Future of AgTech in Lexington
Tuesday, January 19th
ZOOM Call
Lexington Mayor Linda Gorton
Dean Nancy Cox, UK College of Agriculture, Food, and Environment
Jordan Wood, CEO of RedLeaf Biologics
A panel discussion about the AgTech industry in Lexington and why it is the hottest topic in economic development and agriculture. Panel included Mayor Linda Gorton, Dean Nancy Cox of UK's College of Agriculture, Food, and Environment, and Jordan Wood, CEO of RedLeaf Biologics. Hear about the evolving landscape of the industry, how it will impact our community, and the progress of current AgTech businesses.
Panelists:
Linda Gorton, Mayor of Lexington, Ky.
Linda Gorton, the longest-serving member of the Lexington-Fayette Urban County Council, is serving her first term as Lexington Mayor. Mayor Gorton was elected on November 6, 2018, winning 63% of the vote. A native of Ohio, Mayor Gorton has lived in Lexington most of her adult life. In addition to her 16 years on the Council, including 4 years as Vice Mayor, Mayor Gorton has been a dedicated volunteer in our community.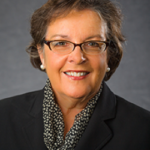 Dean Nancy Cox, University of Kentucky College of Agriculture, Food, and Environment
Nancy M. Cox became dean of the University of Kentucky College of Agriculture, Food and Environment on Jan.1, 2014. Recognizing the significant footprint and statewide role of the college, Cox was appointed in August 2020 by UK President Eli Capilouto to join his leadership team with the additional role as vice president for land-grant engagement for the University of Kentucky.
Prior to her tenure as dean, Cox served the college as associate dean for research and director of the Kentucky Agricultural Experiment Station. As a renowned animal/equine physiologist and associate dean, she accelerated the college's land-grant role as a research and engagement leader in Kentucky agriculture; prioritizing investments in veterinary diagnostics, equine health and safety, and animal and forage production—historic mainstays for the commonwealth's flagship university.
Cox began her career at Mississippi State University, where she taught and conducted research in animal physiology. She received a bachelor's degree from Furman University, master's degree from University of Georgia, and doctorate from North Carolina State University.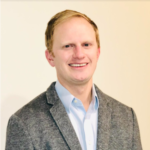 Jordan Wood, CEO of RedLeaf
Jordan is the CEO of ag tech startup, RedLeaf Biologics, Inc. At RedLeaf, Jordan oversees the company's commercialization efforts of utilizing unique plant varieties as functional ingredients in the health & wellness, cosmetics, and natural colorants markets. Since joining RedLeaf full-time in 2017, Jordan has managed over $1.5M in grant funding from federal and state agencies and raised an additional $1M in outside capital. These efforts have allowed the company to accelerate their regulatory and commercial timelines, resulting in the anticipated launch of RedLeaf's first FDA approved product in the Fall in 2021.
An attorney by trade, Jordan was a partner at a Birmingham, AL based law firm prior to joining RedLeaf. He maintained a practice in healthcare and employment law sector.
---
CPA 2.0 Growing Our City: Affordable Housing
November 17, 2020
ZOOM Call
Elisa Bruce, REACH, Director of Housing Education and Counseling
Justin Kirchner, Lexington Community Land Trust, Director of Homeownership
Equal access to housing is a fundamental civil right and is critical to many individual and community social outcomes from economic prosperity to social equity. Access to housing is a goal that government, public officials, and private citizens must embrace if housing access is to become a reality.
In many areas across the U.S., a primary obstacle to housing is a relative absence of affordable and diverse housing for all types of families at different income levels close to where people work and play. Often, public policies implemented in cities can contribute to the lack of affordable housing, along with pushback from the community due to myths around diverse, mixed income neighborhoods. 
Watch this recording to better understand the barriers to increasing affordable housing in Lexington-Fayette County and how the Lexington Community Land Trust and REACH are working to fight these barriers.
View Affordable Housing Recording
---
CPA 2.0 Growing Our City: Food Insecurity
September 22, 2020
ZOOM Call
Kristin Hughes, Community Education & Outreach Director, FoodChain Lex
Christine Smith, Executive Director, Seedleaf Lexington
Join Fayette Alliance as we discuss food insecurity in Lexington-Fayette County, particularly how it has been exacerbated by COVID-19 with the largest impacts on marginalized communities. We will hear how urban agriculture and traditional agriculture can play a major role in addressing our city's food insecurity. Attendees will leave with a better understanding of the work that Seedleaf and FoodChain are doing to support our community as a whole, particularly their work in alleviating food insecurity for young people, their families, and marginalized communities. Finally, we will discuss how to support these organizations and ongoing work that can be done around this issue.
View Food Insecurity Recording
---
CPA 2.0 Promoting Our Farms: Urban Agriculture
April 2020
ZOOM Call
Andrew and Reva Russell English, North Farm
COVID-19 has changed the way we live our daily lives, exposing and highlighting gaps in basic needs we need to address but also opportunities for our local community to come together to support our neighbors.
Agriculture is a significant part of our local economy, to the tune of $2.3 billion per year, as well as our identity and quality of life. A lesser known form of farming happens right here in Lexington's urban core. Hear from Andrew and Reva Russell English who raise vegetables, herbs, and fruit at North Farm, in the heart of the Northside of downtown Lexington.
This crisis has created (and exacerbated) local food insecurity and exposed potential food supply chain issues with nationwide impacts. Looking to our local food supply and supporting our local farmers are important ways our community can talk about and support these local businesses, as well as the business of agriculture in the broader scope of our local economy.
---
CPA 2.0 Responsible Infrastructure: Sewers and Water Quality
February 2020
Nick Ryan's Happy Hour
Charles Martin, Director of the Division of Water Quality, spoke around the EPA Consent Decree and an update on road closures.
---
CPA 2.0 Planning 101: Exploring Placebuilder
Monday, October 14, 2019
5-6:30 PM
Blue Stallion Brewing Co.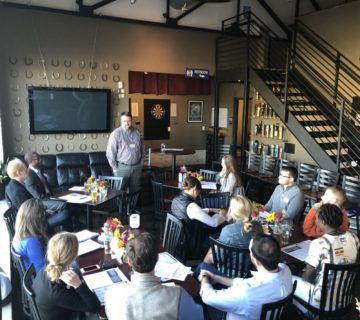 Thank you to everyone that joined Fayette Alliance at Blue Stallion Brewing Co. for a discussion of how the 2018 Comprehensive Plan is being implemented in Lexington and Placebuilder, a framework within the 2018 Comprehensive Plan for applicants, Planning Staff, community stakeholders, Planning Commission, and the Council to evaluate whether or not development proposals are in agreement with the Plan. Chris Taylor from LFUCG Long Range Planning presented Placebuilder and answered questions about its implementation. This was a part of the Mission Monday program at Blue Stallion where 10% of taproom sales were donated to Fayette Alliance's Citizens' Planning Academy.