How to Experience the Best of Lexington's World-famous Landscape
Lexington, Kentucky sits in the heart of the Bluegrass region and has become world-famous for its landscape — gently rolling hills, pasture land, and, of course, horse farms. 
Unlike most cities, however, our scenic farmland is located within a short 10-minute drive of our bustling downtown — a feature that was uniquely and purposefully designed. 
Lexington's Urban Services Boundary (USB) is the defining feature that has helped create our unique urban and rural balance. It's also helped preserve and protect the Bluegrass landscape. 
Essentially, the USB is an invisible line that dictates where development can, and can't, take place. It's also the line that indicates where city services end — water, trash pick up, sewage, etc.
Whether you're a visitor, transplant, or lifelong resident — there are tons of different ways to explore the scenic landscape that has put Lexington, Kentucky on the map. Check out our suggestions below.
Keeneland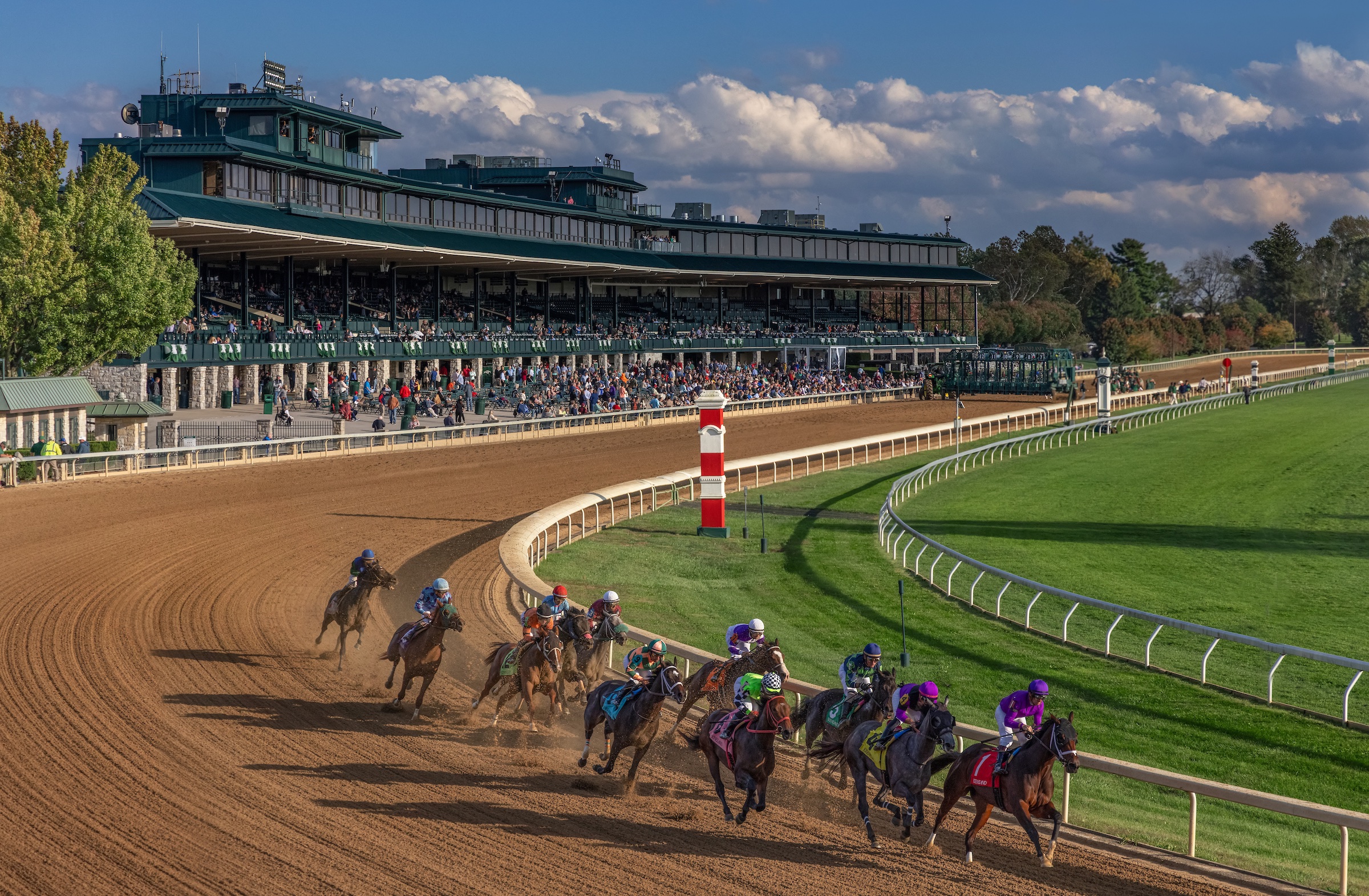 We can't discuss the Horse Capital of the World without mentioning Lexington's world-famous racetrack. The track is relatively modest in size, with a seating capacity of about 9,000, providing guests with an intimate racing experience.
Views from the grandstand overlook the stunning Bluegrass countryside, and a backdrop of rolling hills and farmland accentuate the exciting racing atmosphere. In 2022, Keeneland hosted the 2022 Breeders' Cup, generating $81,846,897 in economic impact for Lexington-Fayette County.
Racing only takes place during April and October. So, if you're traveling from out of town, plan your visit accordingly. Outside of racing, the track also boasts tours, a historical library, and a restaurant. In the off-season, Keeneland also actively operates as a community event space, hosting 5k races, fun runs, and conferences. 
Fun fact: Every year in September, Keeneland hosts its Yearling Sale. This event acts as the global marketplace for Thoroughbred yearling sales and is the world's single most important Thoroughbred sale.
Horse Farm Tours
Thanks to the work of Visit Horse Country, Lexington's expansive countryside has opened its barn doors to welcome local and regional guests. A tour of one of these facilities will give visitors a majestic glimpse into Lexington's historic equine industry.
This farm tour offers one of the most hands-on and scenic experiences for visitors, allowing guests to get up close and personal with mares, foals, and champion, prize-winning stallions. This tour also educates visitors on why the Bluegrass landscape is so uniquely suited for Thoroughbreds and gives insight into the equine business. 
Spy Coast Farm offers a different experience for equine enthusiasts different than that of Thoroughbred racing. This farm specializes in the breeding and training of sport horses, specifically, Grand Prix show jumpers.
Sitting on 800 acres just outside of downtown Lexington, this teaches guests how management, training, and care of sport horses differs from other equine industries. Guests will tour the entire facility — from its Rehabilitation and Fitness Center to its Young Horse Development area — to understand how these young horses train like Olympic athletes.
Consider the Kentucky Horse Park your one-stop shop for all things equine. Inside the grounds, you can experience live equine presentations, museums, guided horseback riding, and a campground.
The park is owned by the State of Kentucky, and works to celebrate Kentucky's unique relationship with horses through education, exhibition, and competition. Over 500,000 visit this unique facility each year.
Hiking
Lexington's agriculture industry is booming, accounting for $2.4 billion in annual economic activity. However, it's not all farmland out in the Bluegrass. If you know where to look, you can find excellent hiking trails, ranging from gentle rolling hill terrain to rugged cliffside excursions. 
Fun fact: The City of Lexington purchased 30 acres of land along the Kentucky River, with plans to create a public access point for kayakers. Watch drone footage of the new area, here.
Raven Run is a 734-acre nature sanctuary that was created to protect the natural beauty of the Kentucky River Palisades, a 450-million-year-old ecosystem along the Kentucky River. 
The sanctuary features 10 miles of hiking trails that give outdoor enthusiasts the opportunity to view 600+ species of plants and 200+ species of birds. 
Hike the Kentucky River Overlook trail to get a glimpse of the Palisades' dramatic cliff lines, or stroll through the Flower Bowl trail in spring to experience the beauty of blooming wildflowers.
Hisle Farm Park is 280 acres of former Bluegrass pastureland that has since been turned into a public park.
Located five miles northeast of downtown Lexington, the park has two different mixed-use trails, a 1-mile trail, and a 2.5-mile trail. The trails wind along a vast, open landscape that gives users a different hiking experience than they normally might find in the forest. Stay alert while hiking, because the trails at Hisle Farm Park are open to both hikers and equestrian riders.
History
The Aviation Museum of Kentucky is located at the Bluegrass Airport and was voted the best museum in Lexington in 2022. 
Visitors of the museum get the chance to get up close with historical and modern aircrafts — restored barnstormers, vintage airliners, historic Warbirds, and more. The museum also serves as a resource for students who are interested in learning about careers in aerospace and the rich history of aviation in Kentucky.
Surrounded by horse farms and nestled in the heart of the Bluegrass, the Headley-Whitney Museum features a unique permanent collection of fine and decorative arts, as well as a well-rounded rotation of regional and national exhibits.
The museum was originally created in 1966 to house the private gallery of the founder, George Headley III. The museum has been open to the public since 1968, working to enrich the lives of the community by fostering an appreciation for the arts.
Eat
We can't talk about enjoying the best of the Bluegrass region without talking about BBQ.
In 2017, Red State BBQ was voted the best barbecue in the State of Kentucky, and they haven't changed their menu since 2010. Choose from eight different hand-made sauces when ordering, and don't forget to snag a bottle to take home with you.
Proud Mary BBQ is scenically located on the banks of the Kentucky River and has one of the best patios in all of Fayette County. Sample its vast selection of succulent, slow-roasted meats while sipping on a cold beverage, listening to live music, and watching paddlers make their way down the Kentucky River. 
Nestled amongst the rolling hills and farmland, Boonedogs serves up gourmet hotdogs, craft beer, and cocktails in a scenic setting. Its "Pimento Dog" was recently voted one of the best hotdogs in America — a locally produced dog topped with pimento cheese, mayo, pickled red onions, bacon bits, and fried green tomatoes.
Fashioned after an old country store, Windy Corner Market is one of those classic mom-and-pop-style restaurants that can transport patrons back to yesteryear. Local chef Ouita Michel takes pride in partnering with farmers to ensure her menu contains the best locally-sourced ingredients. 
From seafood to hearty breakfasts, the menu contains something for everyone. Be sure to take some time to unwind on the four-season porch and soak in the surrounding country landscape.
Drink
Lexington may sit in the heart of Bourbon Country, but wineries also complement this region's booming beverage scene. 
Grimes Mill Winery is a family-run business that has produced award-winning wines for the past 10 years. Its wines are created using locally-sourced grapes, a majority of which are grown on the family farm located just outside of Lexington. Additionally, and in a similar fashion to bourbon, its red wines are aged in oak barrels to create complex and unique flavor profiles.Talon Winery not only serves up delicious wine but also features a regular rotation
Talon Winery not only serves up delicious wine but also features a regular rotation of live music from regional acts. Bring a blanket to enjoy original Bluegrass wine and music.