Economic Development and the Urban Service Boundary
Sometimes, false narratives are told about the Urban Service Boundary — and one of them we often hear is "the USB is hindering economic development in Lexington-Fayette County."
However, a study conducted by the University of Kentucky disproves this narrative.
2017 LBAR Study on Lexington's Land-Use Policies
The Lexington Bluegrass Association of Realtors (LBAR) funded a research study by the University of Kentucky to look at how Lexington's land-use policies and our Urban Services Boundary (USB) affect our growth.
The study resulted in seven major takeaways. But in terms of economic development, here's what the results of the study say:
Lexington's land use policies

have not significantly impeded the city's employment growth

compared to 18 other comparison cities.

Lexington's employment grew by 29,500 jobs, or 18 percent, from 2003 to 2014.

Of the 18 comparison cities, only five experienced faster employment growth than Lexington.
Advocates of expansion continue to push the narrative that expanding the USB will help grow the city's economy even though studies and research say otherwise. 
Additionally, Lexington already has access to land that can be utilized for economic development — 250 acres of it to be exact.
250 Acres of Land at Coldstream Research Campus
Lexington currently has 250 acres of economic development land inside the USB that can be utilized to bring high-paying jobs to the Bluegrass region — 50 of which are "shovel ready," meaning that the land is ready to be developed immediately.
In 2018, the University of Kentucky and the city of Lexington participated in a historic land swap. The university traded 250 acres of land in and near its Coldstream Research Campus in exchange for full control of several important streets located around the campus area. 
This land has the potential to drive economic growth into the Bluegrass region for years to come.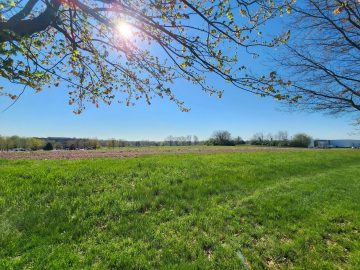 The land is

located at the junction of I-64 and I-75

, providing quick and easy interstate access for potential employers.

It is also perfectly positioned to be

an hour's drive

from both downtown Louisville and downtown Cincinnati.

The

UPS worldwide hub

is also only 75 minutes away from this site.
Lexington city officials have been working with Gresham Smith, an architecture, engineering, and design firm, to create a Master Plan for this land. 
Perspective: 250 acres is a lot of land to work with — that's roughly the size of 187 football fields. 
The

Bluegrass Business Park

is a 100-acre plot of land that began housing manufacturing companies in 1997. It took

20 years to fill the 100-acre industrial park

and was completed and fully utilized in 2017.

In July 2022, Fayette County had its fourth-highest employment rate since 1990, when tracking began. 
Our takeaway: If studies show that the USB isn't hindering economic development in Lexington-Fayette County, and we have access to 250 acres of land inside the USB, then shouldn't we prioritize developing this land… 👇
… instead of this land? 👇