CPA 2.0
Citizen's Planning Academy Education
and Networking Events
We created Citizens' Planning Academy (CPA) 2.0 to highlight and explore local issues and resources related to land use planning and our community's economic development, environment and quality of life, outside of our annual, 4 week Citizens' Planning Academy course. Open to anyone and everyone, we invite you to join us to hear from local experts on local topics related to how we live, work, and play in Lexington-Fayette County.
CPA 2.0 Growing Our City: Food Insecurity
September 22, 2020
5:30 – 6:30 PM
Kristin Hughes, Community Education & Outreach Director, FoodChain Lex
Christine Smith, Executive Director, Seedleaf Lexington
Join Fayette Alliance as we discuss food insecurity in Lexington-Fayette County, particularly how it has been exacerbated by COVID-19 with the largest impacts on marginalized communities. We will hear how urban agriculture and traditional agriculture can play a major role in addressing our city's food insecurity. Attendees will leave with a better understanding of the work that Seedleaf and FoodChain are doing to support our community as a whole, particularly their work in alleviating food insecurity for young people, their families, and marginalized communities. Finally, we will discuss how to support these organizations and ongoing work that can be done around this issue.
---
PAST EVENTS
CPA 2.0 Promoting Our Farms: Urban Agriculture
April 2020
ZOOM Call
Andrew and Reva Russell English, North Farm
COVID-19 has changed the way we live our daily lives, exposing and highlighting gaps in basic needs we need to address but also opportunities for our local community to come together to support our neighbors.
Agriculture is a significant part of our local economy, to the tune of $2.3 billion per year, as well as our identity and quality of life. A lesser known form of farming happens right here in Lexington's urban core. Hear from Andrew and Reva Russell English who raise vegetables, herbs, and fruit at North Farm, in the heart of the Northside of downtown Lexington.
This crisis has created (and exacerbated) local food insecurity and exposed potential food supply chain issues with nationwide impacts. Looking to our local food supply and supporting our local farmers are important ways our community can talk about and support these local businesses, as well as the business of agriculture in the broader scope of our local economy.
---
CPA 2.0 Responsible Infrastructure: Sewers and Water Quality
February 2020
Nick Ryan's Happy Hour
Charles Martin, Director of the Division of Water Quality, spoke around the EPA Consent Decree and an update on road closures.
---
CPA 2.0 Planning 101: Exploring Placebuilder
Monday, October 14, 2019
5-6:30 PM
Blue Stallion Brewing Co.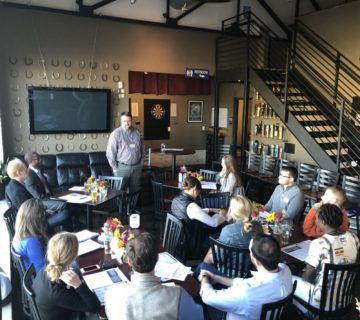 Thank you to everyone that joined Fayette Alliance at Blue Stallion Brewing Co. for a discussion of how the 2018 Comprehensive Plan is being implemented in Lexington and Placebuilder, a framework within the 2018 Comprehensive Plan for applicants, Planning Staff, community stakeholders, Planning Commission, and the Council to evaluate whether or not development proposals are in agreement with the Plan. Chris Taylor from LFUCG Long Range Planning presented Placebuilder and answered questions about its implementation. This was a part of the Mission Monday program at Blue Stallion where 10% of taproom sales were donated to Fayette Alliance's Citizens' Planning Academy.